Cosmetic dentistry is generally is focused on improving appearance of a client. It involves all services of the oral cavity that are meant to improve the look of a client. General dentistry is focused on oral hygiene and health.
To some extent maintaining oral health helps the mouth to retain the aesthetic look. However, the way a person looks is not the major concern of a general dentist. All the same, the dentist would prefer that the patient has a beautiful recovery from the problem he or she has.
Cosmetic dentist also desires good and beautiful recovery and creatively acts upon that desire. The cosmetic dentist makes further effort to ensure that the treated tooth not only heals but also looks absolutely beautiful and match the ones it finds in the mouth.
Training for general dentist and cosmetic dentist
Both general and cosmetic dentist go through the same course of training. They both emerge from dental school with the same qualifications. After college training the dentist seeks license to practice. Cosmetic and general dentists are registered in the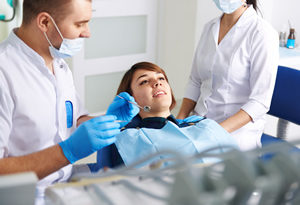 same manner. However, cosmetic dentist has additional training that allows him or her to give creative aesthetic
solutions for teeth that would otherwise not look good after treatment.
Role of a general dentist
General dentist mainly performs regular dental checkups and offer regular treatment solutions which include; dental checkups, cavity treatment, tooth extraction, root canal, oral cancer screening and treatment among others.
General dentists would work that the recovering tooth looks good after treatment.  All the procedures conducted by general dentists are meant to restore oral health and nothing more.
Roles of a cosmetic dentist
The major responsibility of a cosmetic dentist is to make sure that the person in question looks good. The dentist ensures that his client's teeth are white and are in great shape.
A cosmetic dentist looks into using procedures like whitening of teeth through bleaching. Repairing chipped teeth with filling that match the color of the original teeth and covering disintegrated teeth with porcelain crown.  All of which is aimed at improving the appearance.
Both cosmetic and general dentist have similar training, thus they are able to offer same solutions to oral problems. However, from the additional training, cosmetic dentists can go beyond just solving the existing problem to looking into how to make a client look awesome.
Conclusion
For general tooth health, you can go to any dentist. However, if you need a tooth that you will be proud showing off even after treatment, your best option is cosmetic dentist.
Cosmetic dentists will not only make sure that you are free from pain, but will also ensure that you are spared the embarrassment of ugly teeth.